Interactive illustrations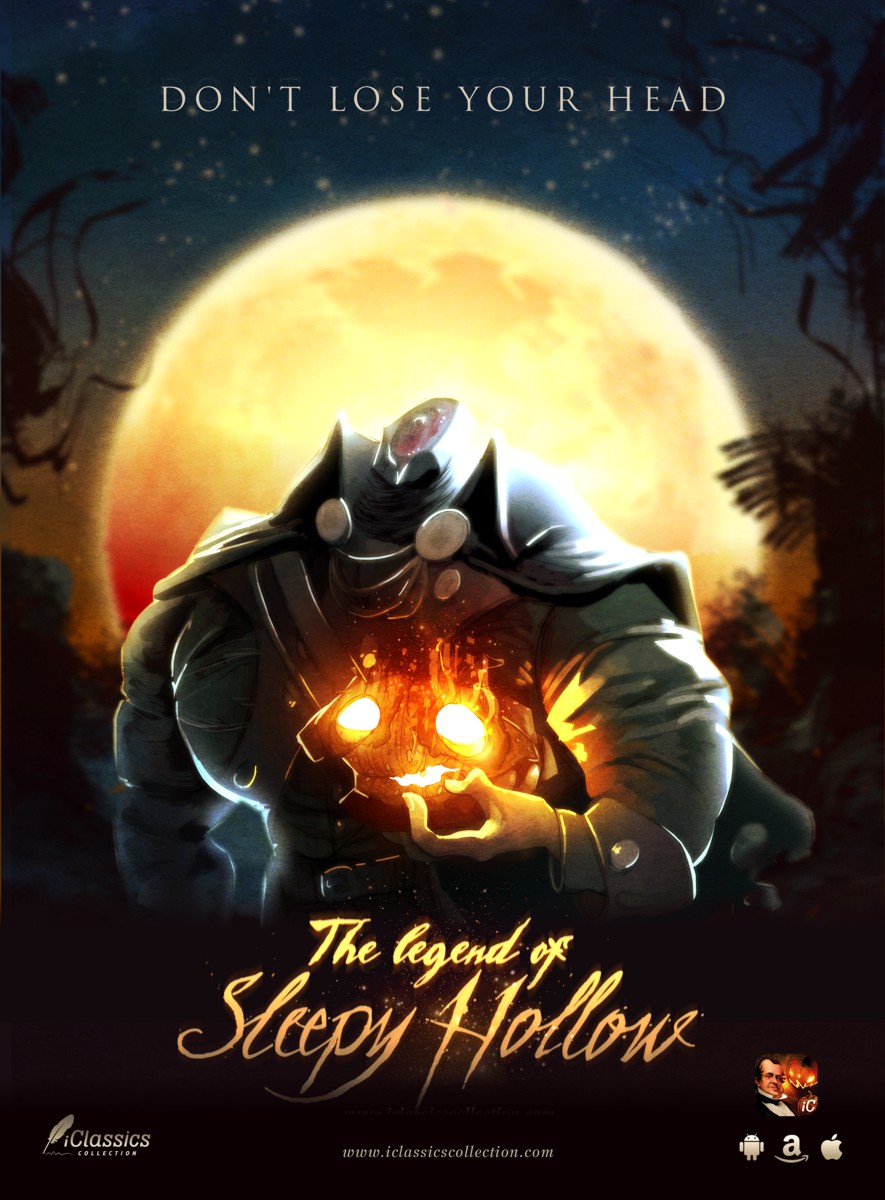 iClassics Productions is now famous for creating Immersive Entertainment apps focused on the horror and terror genres.
And so how wrong would it be if we failed to include the classic and quintessentially American tale, The Legend of Sleepy Hollow.
In this innovative and feature-length Immersive Entertainment app, Washington Irving's magnum opus is lovingly and artistically enhanced with interaction, illustration, animation, FX, and OST.
Being one of our latest releases, the animation is richer and more cinematic than ever, complete with a masterful soundtrack composed by Miquel Tejada and Adri Mena that, which serves to make the visual details all the more sublime. By casting a modern glare on this ludic horror tale, the result is a spectacular and wholly original experience that utilizes every feature of modern mobile devices (gyro-perspective, flash, vibration).
▶ APP FEATURES:
Main features:
✓ 91 pages (tablet version) / 142 pages (mobile version)
✓ Available in 3 languages: English, Spanish and French
✓ 89 sound effects
✓ 63 minute soundtrack
✓ 52  interactive illustrations
✓ 67 animations
Extras: Washington Irving biography and Aitor Prieto sketchbook
✓ Jump to any page in the book with the table of contents
✓ Memory pages: Put it down at any time and return to the same page
✓ Easy to use interface
Fantastic Read! This is the first time I've read the classic tale of The Legend of Sleepy Hollow. What an immersive and entertaining experience to do so with this interactive app. The art is nothing short of spectacular. It reminded me of the art used to illustrate the Deathly Hallows in the Harry Potter movie. If you would like to take a stab at reading a classic story you can't go wrong here. I want to read another one now!
I found this book most difficult as a child (79 now) to have read. Never picked it up again since… until today. And then I couldn't put it down. The music set the tone for reading the sections as they appeared in the story and the animations kept my curiosity intrigued. It made the reading of the old English so much easier. I would love to hear from youth today to learn if they find it just as delightful. Having been a teacher I can see all kinds of possibilities for discussing the story and the effect of the music in regards to the various passages. For me the lines literally jumped off the page!
Brilliant! I don't see how they can recommend this book for just 9 to 11 year olds. I'm 51 and found it a compelling read. Brilliant fun written in a time where words were expressed in a beautiful, different way. The artwork is also fantastic. Highly recommended!
Nicely done. An imaginative re-telling of this favourite tale with lots of graphic embellishments and a charming musical accompaniment. Five stars indeed.