Interactive illustrations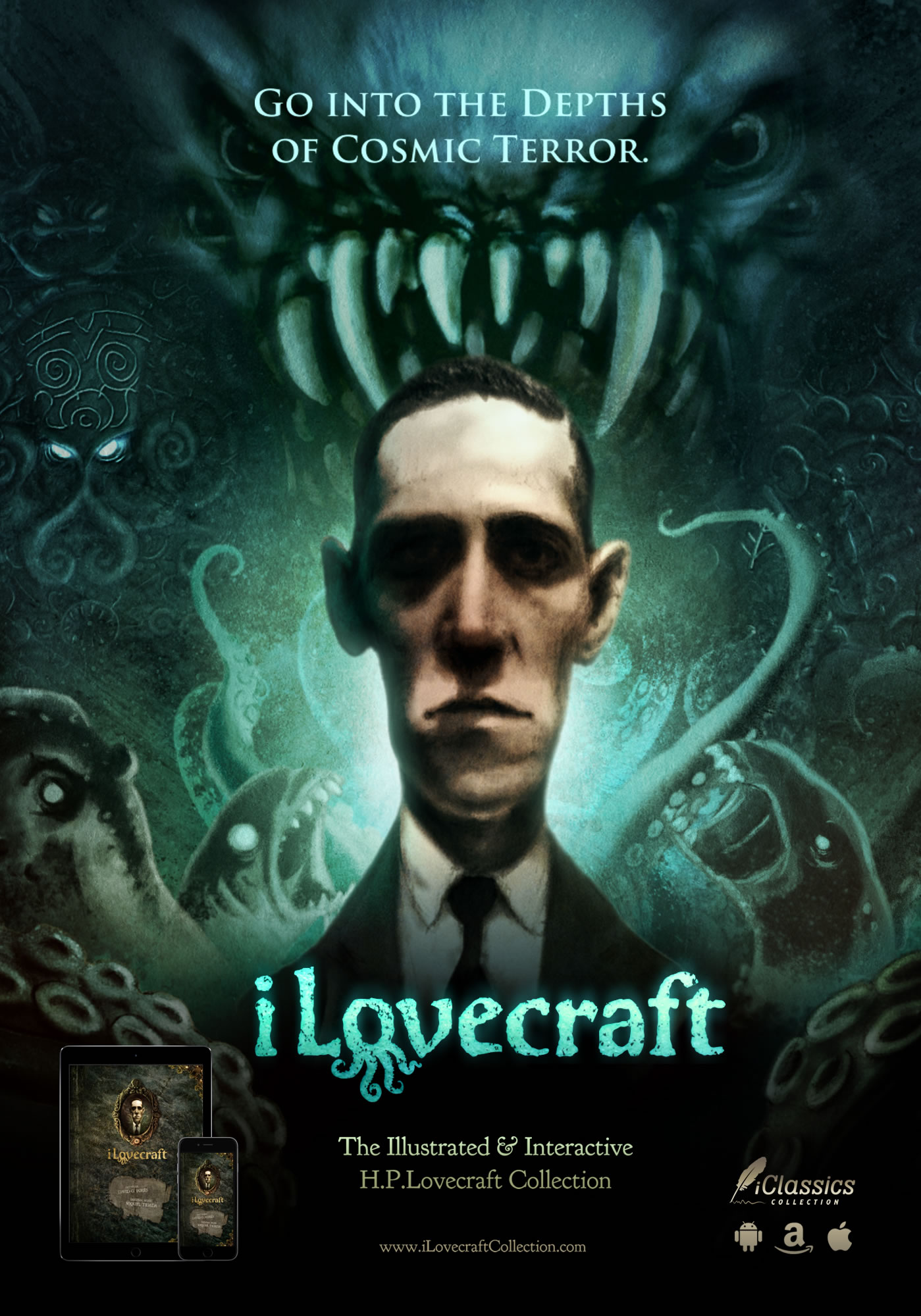 In this innovative Immersive Entertainment app, a fine selection of horror stories by
H.P Lovecraft
is lovingly and artistically enhanced with interaction, illustration, animation, FX, and OST.
This immersive experience includes three masterpieces from the literary legend, including Dagon, The Hound and The Window (Fungi from Yuggoth)
By casting a modern glare on these classic H.P. Lovecraft stories, the result is a spectacular and wholly original experience that utilizes every feature of modern mobile devices (gyro-perspective, flash, vibration).
Dreamy, surreal, dark, and captivating, H.P. Lovecraft transgressed the limits of literary terror in the 20th century. Fittingly, the artistic and technological treatment of his works by iClassics is equally as groundbreaking, hurling his words into the 21st century while keeping the original texts wholly intact.
▶ APP FEATURES:
✓ 83 pages (tablet version) / 125 pages (mobile version)
✓ Available in 4 languages: English, Spanish, French and Portuguese
✓ 3 stories, more than 46 illustrations, 50 animations and 60 interactive pages, illustrated and directed by David G. Forés
✓ Over 35 minutes of Original Soundtrack by Miquel Tejada
✓ Extras. Lovecraft biography and Sketchbook
✓ Original tales from the writer – no adaptations
Additional features:
✓ Jump to any page in the book with our handy table of contents
✓ Page Memory: Leave the app at any moment, and come back to the same page
✓ Easy to use interface
Complete the collection:
– iLovecraft 2 (The Colour Out of Space)
An exceptional elevation of remarkably intense novels. The works of H.P. Lovecraft are already very intense and interesting reads, but this application gives new context to these classics with the integration of high-quality illustrations and interactivity. There is no doubt in my mind that this app should be five stars. By Lucas13245992 (Canada)
Very good. I have been a fan of all things Lovecraftian since my late teens. I am now 36 and this app has breathed new life into a few of his short stories. If you're a fan of Lovecraft just get it you wont be dissapointed. If you've never had the pleasure then I'd also recommend it as a good introduction to a truly great horror writer. By Nic Gallimore
Crafted with love. I have never read any H P Lovecraft, so I thought this would be a good introduction. Being a penny thrift I thought the collection. I have only read the Lovecraft one but it is terrific. It creates just the right mood in both audio and visual entertainment. It contains three tales and is extremely atmospheric. I hope the other three collections are as good. Well done apps guys! By Webbeing (United Kingdom)
Super fun. This is my first iclassic read so I am not comparing this to previous titles. This is a really fun reading format. The art, music, and sound effects make this feel alive and immersive. Grab some headphones and get some Lovecraft in your life. By reading>eating (United States)