Macabre, Romance, Horror
The iPoe Collection 3 is the latest addition to iClassics Production's well-known iPoe Collection, which has proved to be a major hit for both the iOS and Android, with some of the best short works of E.A. Poe.
Interactive illustrations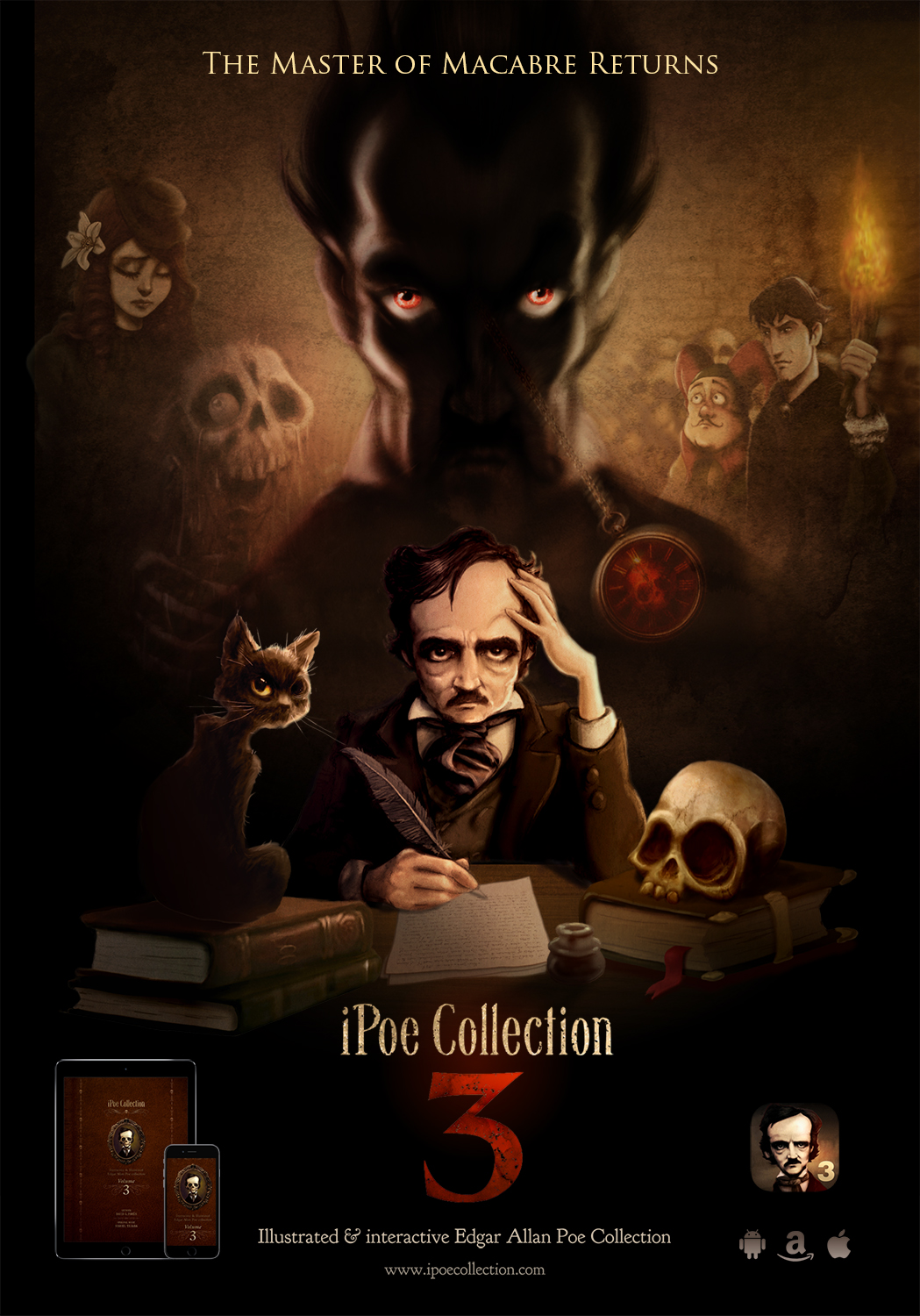 Following on from the previous two installments of the iPoe Collection (Vol.1 and 2), the iPoe Collection Vol.3 is a literary and artistic tour-de-force, bringing to life such classics as The Cask of Amontillado, Alone, The Facts in the Case of M. Valdemar, and El Dorado.
By casting a modern glare on a fine selection of Edgar Allan Poe's stories, the result is a spectacular and wholly original experience that utilizes every feature of modern mobile devices (gyro-perspective, flash, vibration).
Main Features:
✓ Available in 4 languages: English, Spanish, Portuguese and French.
✓ Outstanding artwork by David G. Forés
✓ Breathtaking original soundtrack by Miquel Tejada
✓ Extra: Sketchbook and Poe Stickers ( for iMessage iOS10)
✓ Original tale from the writer – no adaptations
Additional features:
✓ Jump to any page in the book with our handy table of contents.
✓ Page Memory. Leave the app at any moment, and come back to the same page.
✓ Easy to use interface
Excellent interpretation of Poe's book, with vivid brutal animations brought to life, or is it Death within the pages of this interactive pleasure. The soundtrack too will make you Jump with fright! as will the gory artwork deliciously foul as it should be. Definitely got this one full on. So please. Can We Have MORE.
By Shawshiraz (United Kingdom)
Delightfully Macabre. I've always been an EAP fanatic. This interactive way of reading his works adds a whole new layer of my admiration for Poe. The graphics and sounds are amazing. I lust for the feeling I get when I swipe to the next page.
By Mia B Es 13 (United States)
Just as awesome. I have purchased the previous two Poe Collections, along with the Lovecraft and Wilde collections, and they have yet to disappoint. These breathe new life into these classic stories, and can be enjoyed by anyone with a fondness for literature. A definite must have for some who loves to read!
By Mark Melchor